UPDATE: Spread the Human Rights Logo!

A little older but still up to date. Enjoy watching and spread the word.
Video: Dominic Schneider, Maren Boensch / Musik: Christian Losert
——————————————————————————————–
UPDATE: Impressions III
——————————————————————————————–
UPDATE: Mini Docu

More videos by Hans Goedecke
——————————————————————————————–
UPDATE: Impressions II
——————————————————————————————–
UPDATE: Hold Up for Human Rights at DMY International Design Festival
During the DMY Intl Design Festival in Berlin, Gangsters Daniel Hires and Kate Ettinger and sensemakers tackled a challenge for the Maker Lab for Human Rights.
The Maker Lab for Human Rights wanted to develop a campaign to link meaningful action with the crowd sourced logo for human rights.  The crowd-sourced logo was designed with the vision… more on makesense.org
——————————————————————————————–
UPDATE: Human Rights Makerlab review. Sunday 10th 1.00 – 2.30 Open Talks Space, Hall 4.
Giving credit where it's due, it's time for a review. In 3 weeks, a team of individuals, organisations, groups and networks have put together the Lab you witnessed in DMY.
We will take the opportunity to share and celebrate our individual and collective actions. Come and share y/our stories with us.
——————————————————————————————–
UPDATE: Video Impressions I

——————————————————————————————–
UPDATE: A real time magazine
A documentation of the whole MakerLab HUMAN RIGHTS project in printed form. There will be a magazine/publication with a print run of app. 100-300 copies at the end of DMY.
Friday / Freitag
——————————————————————————————–
UPDATE: Brina Stinehelfer and Berlina Li takes care for short videos, showing the atmosphere, design highlights and little wonders. Click here for douzens of snippets Youtube Playlist
Brina Stinehelfer / Berlina Li

——————————————————————————————–
THE STORY
The Human Rights Makerlab aims to bring together diverse interest groups to explore the topic of Human Rights through actions, conversations and presentations. Our objective is to broaden awareness of the topic, and create opportunities for sharing technology to assist people in enabling their Human Rights – everything from shared language and symbolism, to functional easy to build tools.
So far we have around 40 different contributors (this number grows daily), who will collaborate to co create the event. Engagements vary from social provocations – to tools for social empowerment – "a symbol for human rights", strategic approaches to non violent resistance, open source servers, wind energy production. These will take the form of presentations, workshops and creative actions. We do not curate the event, as this would limit the dialogue and engagement – working against the freedoms we wish to promote. Instead we invite YOU to participate in the conversation through action and engagement.
A list of actions presently scheduled is evolving here. If you would like to get involved then feel free to add your own action, or email us. For spontaneous actions and participation you can also join us in the space, the following times we will be sharing our intentions, other times just show up, find out what's happening and join in.
Wednesday 20:00 Human Rights MakerLab Launch
Thursday 10:00 Breakfast and sharing days events
Friday 10:00 Breakfast and sharing days events
Saturday 10:00 Breakfast and sharing days events
Sunday 12:00 Celebration Brunch – sharing outcomes of the Human Rights MakerLab
Other ways you can get involved:
Participate – show up and participate in an action taking place
Promote – share the lab #HRmakerlab #humanrights
Contribute to a crowdsourced declaration of Human Rights
Download the Symbol, replicate share and appropriate in the name of Human rights.
Document – come and document the event to contribute to the shared knowledge outputs of the event, share your outputs through Knowable.org, and through social media channels – facebook group, flickr pool, or even contribute to our daily magazine/book in progress.
The Human Rights MakerLab is a collaboration between DMY, InterInstitute in Berlin, www.humanrightslogo.net, Open Design City and numerous content partners. It is facilitated by Jay Cousins​ and Pedro Pineda using the MakerLab Process.

Universal Declaration of Human Rights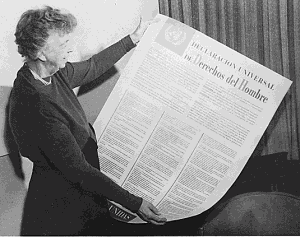 Quote Wikipedia: The Universal Declaration of Human Rights (UDHR) is a declaration adopted by the United Nations General Assembly (10 December 1948 at Palais de Chaillot, Paris). The Declaration arose directly from the experience of the Second World War and represents the first global expression of rights to which all human beings are inherently entitled. It consists of 30 articles which have been elaborated in subsequent international treaties, regional human rights instruments, national constitutions and laws. Learn more on Wikipeda