Posts Tagged by
plug in
Adhocracy. Make it your self (Background)
People have been disenfranchised from the sense of responsibility towards the public space. Citizens think that the government (and other institutions) should take action when it comes to shape the city. This is a commodity, for which citizens pay (with their taxes). However it is more and more clear that centralized institutions can't deal with all our requests.
So it becomes clear that we have to take charge, at least if we want something to happen.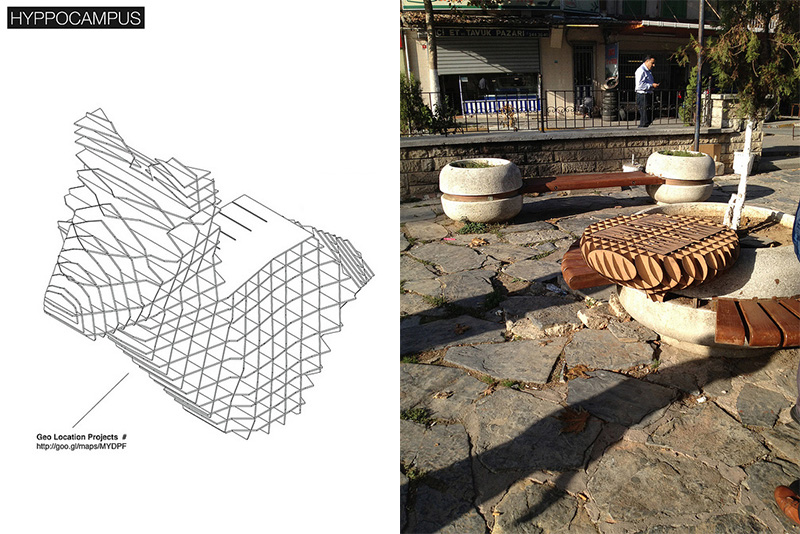 Virus Plug-In; Inspire and provide instructions for others to spread change. (Concept)
The Virus Plug-in is an object that uses a public structure as its own. It will grow around itself, almost self-replicating, and will give a new sense and value to its location, one decided by citizens. By introducing this objects in the street and showing people how they can be made, we spark a viral action, were people feel able, allowed and encouraged by their peers to hack the public space.
For the production we created a language based on a common material (6mm MDF), construction technique (Interlocking Slices), and tool (Laser cutter). This was done to help people identifying the virus and understand the process. But this is not, in itself, the goal. We produced an answer to a spotted challenge based on existing tools, open processes, local resources and needs. The goal is to produce possible solutions that are effective, understandable and exiting. And publish them in a way that is is easy to copy and adapt to each location.
It is not an action to impose a new concept but to invite reflection.The change depends very much on the willingness of people to get involved. We can provoke.
Virus Plug in will be developed further in Barcelona @ eme3 (25th – 30th  June 2013)
We have been invited to share our work at the eme3. Besides showing the work we did at Istanbul Design Biennial, we are going to be prototyping new iterations of the Virus Plug in. Adapted to its new environment and possibilities. We invite anybody who is interested to come and prototype with us.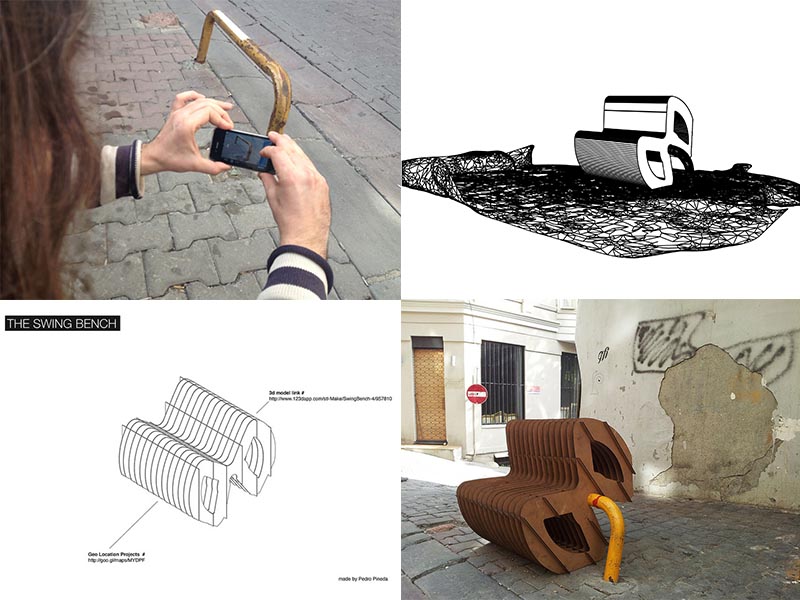 The process to create a Virus Plug-in (Instructions)
Take pictures of the public structure that you want to use for the plug in. (Image: top left)


Upload pictures to

123D Catch

to make a 3D scan of the structure.

Import the file to a 3D modelling program.

Model your plug in around the imported scan. Make sure that you design it taking in consideration how you will plug it in! (Image: Top right)


Import your 3D model to

123D Make, and transform to interlocking slices, (Image bottom left)


Send files to closest Laser cutter,

Put it together,

Place it in the public space. (Image bottom right)

If you like to participate in this action send us a mail to pedro.p (arroba, @) wecreativepeople (punto, . ) com
Infograhic Hyppocamus Plug-In. Designed by Mattia Paco Rizzi during the MakerLab Istanbul.
For this project was clear that we wanted to create a visual way to share the knowledge generated. Apart of the day to day review, the How to video and the physical objects in the space, we thought necessary to develop those info-graphics with al the necessary details for people to understand them and even to make their own. It includes:
Name of the author,
Geographic location for people to see it in place,
Link to 123D app gallery for people to download the model
Notes
With this information we believe most people with a computer could replicate the process. However it could be improved by designing a way for people to adapt the plug in to their own space.
Infograhic with all the Plug-In develop during the MakerLab Istanbul. Graphics by Mattia Paco Rizzi
A video is 1000 pictures. The follwing relates the process to make one plug in.
viruspluginvideo from erin turkoglu on Vimeo.
Each one of the plugs ins that we are designing varies slightly in how is being implemented depending on our concept, the conditions of the structure, our skills with the tools we are using etc. However the basic structure looks like this
Take pictures of the public structure that you want to use for the plug in.
Upload pictures to 123D  Captch to make a 3D scan of the structure. If you have an I-Phone you can upload directly as you take the pics.
Import the file to a 3D modelling program. You can use free software like Sketch Up, or any other surface modelling program.
Model your plug in around it. In this way you will have an almost perfect fit. But still have to deal with how it will be connect to it!
Import your 3D model to 123Make, and select interlocking slices
Save files and Laser cut them
Put it together,
Place it in the public space.
Notes
Of course, even if it sounds easy, prototyping to reality is the only way to know if it works. And not surprisingly there is still a lot of twicking and filing of the models to make them work.