Category:
Human Rights MakerLab
When we first got asked about doing a MakerLab on Human Rights, we got the proposal of making T-Shirts and different objects with the Human Rights logo on it. The idea was to spread the Human Rights logo, at the same time that making those objects in a fair and open way which people could experience.
You Make Change from Hans Goedecke on Vimeo.
But we saw other potential in it. We saw that most makers have an inherent feeling for human rights. Non of them go around talking about how Human-Rights-Friendly their products or process are, instead they want to inspire people about a different way of doing things. A way that empowers Human Beings and the environment we live in. And they do this just because they believe is making a difference, and they love to do it.
In this sense, the MakerLab was not about defending the right to have a free speech or shelter. It was about the right to be a Human Being, and inspire others to be too. Not just with the minimums we need to live, but with the right to fully enjoy life and all its excitements and thrills. The MakerLab was the opportunity for those people trying to do something, to get in contact with other like-minded people and Make it happen, It was about making people happy. The logo, inspiration for this Makerlab, is then slowly translated into a symbol. A symbol for those that want to change the world to make it better for all. Is a symbol for those that have an idea, and can't keep it to them self, but need to make it into the world.
Thanks to…

Predrag Stakić, for the Logo Design,

Everybody who came and took part,

Everyone who passed through and contributed,

Everybody who shared their ideas and thoughts,

To those who intended to participate but couldn't this time,

To everyone we missed off due to sheer volumes of anarchic participation,

To the forces of chaos, serendipity and pure collective will,

To the world.
The Human Rights MakerLab is a collaboration between DMY, InterInstitute in Berlin, www.humanrightslogo.net, Open Design City (Betahaus) and numerous content partners. It is facilitated by Jay Cousins and Pedro Pineda using the MakerLab Process.
This  years MakerLab is about Human Rights.
Through the lab we will explore  the opportunities and challenges of having a logo for Human Rights, and take the opportunity to do something about them.
Rather than waiting for others to change the world situation, we will instead create a collective action which have enough impact to disrupts the way things are.
As part of the activities we are proposing we  are looking for 10 creatives from different disciplines that want to take part in this process and have a say during the DMY Berlin 2012.
Interested people will take part in a creative process focused around a challenge that we all identify with and try to design a way to get all the DMY visitors and exhibitors to make something about it.
We are making two calls:
Thursday, 7th of June: How to magnify a proposed action?
Process:

We invite participants to spend the day at DMY International Design Festival and find ways in which Human Rights are being threatened or empowered within the event.
At 16:00, workshop participants will meet at the MakerLab to identify a challenge that we all identify with and we will have a Hold Up Session to solve this challenge determined by the participants!
We will take the action and augmented through the 3 days of the event to try to get all DMY visitors and exhibitors to do something about that challenge.

CoAnimators:
Pedro Pineda (We Creative People)  and Eskinder & Kate Michi Ettinger (MakeSense Gangsters)
When:
Thursday 7th: 16:00 -> 19:00
Friday, 8th of June: How can the human rights symbol be linked to meaningful action to reflect a "people's" version of the UN Declaration for Human Rights?
Process:
In this 2 hr workshop, we will bring together multi-disciplinary participants as sensemakers to solve a challenge for a social enterprise.  During the creativity workshop, we develop prototypes for solutions to solve the challenge.  Learn more about Hold Ups from MakeSense founder Christian Vanizette here
CoAnimators:
MakeSense Gangsters Daniel Hires & Kate Michi Ettinger
When:
Friday 8th: 15:00 -> 17:00
Get in touch with us if you like to know more or take part.
The Hold-Up process will be facilitated by  MakeSense. They are a global community of young people passionate for social enterprise.  You can learn more about us on our blog:we.makesense.org and check out MakeSense in 1 Min. Web: www.makesense.org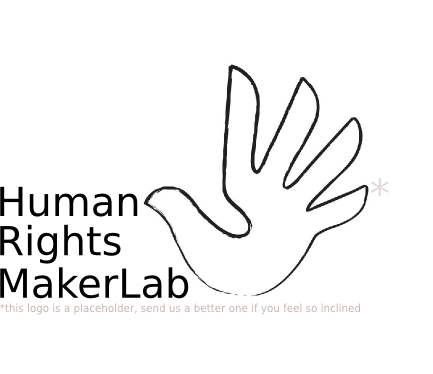 Short Version:
We have 350 sq. metres to explore design for Human Rights at the centre of an international design festival (DMY – June 6-10 – http://dmy-berlin.com/) through an autonomous festival of making – what would you like to do? Email us to get involved or come to the first planning event – see below.
Long Version:
In 2011 a symbol was crowd sourced, an emblem to be adopted and appropriated in the name of a worthy cause.
Human Rights.

This icon now is free for all to use, modify and appropriate. It now belongs to the world.
Will it fly or fall into obscurity?
We hope it can fly.
Regardless, we hope it will provoke you for long enough to consider what it means, and the importance of the topic.
The Human Rights MakerLab is a space for you to explore what Human Rights means through production, design and reflection. It is a space where you are free to share your ideas and methods. A dialogue through actions.
We encourage you to bring your own questions surrounding Human Rights, and create actions, workshops and conversations that explore these questions and encourage others to do likewise.
So if you would like to spend 4 days (or however long you wish to participate) at the heart of an international design event making, designing and exploring what Human Rights means through design, action and mediation. Then we invite you to join us.
To kick start this process of collaboration we will have an event on Friday 18th May at 19.00 in Open Design City where we will share past experiences and learning from the Makerlabs – http://www.makerlab.info (we invite contributions from past participants – get in touch if you want to say something).
If the weather's nice we'll put the BBQ on – so bring something to go on it.
If the weather's not so nice, bring something to share if you feel like it.
We will then give you the chance to meet each other, and imagine what you might want to do, and what your motivations would be for participation – and how we might maximise everybody's benefit from the action.
For those of you who can't make the planning action, please feel free to get in touch stating what you would like to do and what you need.