Home
»
MakerPlatz
» MakerLab Makerplatz (FKA Moritzplatz), 30th September – 1st October
MakerLab Makerplatz (FKA Moritzplatz), 30th September – 1st October
September 3, 2011

Posted by Jay

under

MakerPlatz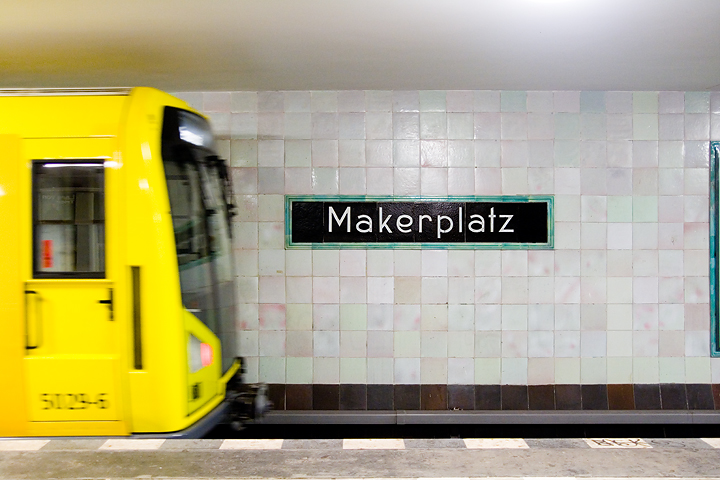 Photo Credit: Kay Strasser, "Makerplatz" meme Semiramis Ceylan
Short version:
What? A collaborative festival of Making, around Makerplatz (FKA Moritzplatz), see below for examples of specific activities.
When? 30th September, 1st October
Where? Planet Modulor, Betahaus, Open Design City, Etsy Labs, Prinzessinengarten (TBC), and ….
Why? To unite, highlight, and catalyse the Berlin Maker Community (see below for more)
How? Come to the planning party and find out Friday 9th September, 20:00 Planet Modulor please confirm attendance below.
If you can't come to the planning party please email me.
Who? Confirmed: Open Design City Community, Planet Modulor Residents, Trial and Error Kulturlabor, Bausteln, Graffiti Research Labs Germany,
Awaiting confirmation: C-base, Prinzessinengarten, Platoon
Still to contact: Ueberlebenskunst, Free culture Incubator, WC druckerie, Freifunk, Action Weaver, Anxious Prop, Supermarkt Wedding, ccc ………. wiki of all this to follow, to allow others to suggest and connect.
And You and anyone you can think of who would like to come and do something cool in a way that people can participate. Please forward.
————————————————————————————————————————-
Long version:
Events have aligned, along with the serendipitous occurrence of a Maker infrastructure in the Moritzplatz area.
Over the last 2 Years, Etsy Labs, IMA Design Village, Prinzessinengarten, schœner.wærs.wenns.schœner.wær, Betahaus, Open Design City and Planet Modulor have cropped up in the same area.
Moritzplatz is now Makerplatz, a maker hub.
Now the serendipity grows, Planet Modulor will make an official opening party, the same weekend as the People in Beta festival. Both want to do something involving makers.
So MakerLab Makerplatz will occur concurrently in Betahaus, Open Design City, Planet Modulor, Etsy Labs, and hopefully also Prinzessinengarten and other spaces should they with to participate.
Our aims are:
To unite, highlight, and catalyse the Berlin Maker Community with a festival of making, collaboration and co-production.
Establish long term collaborations and benefits for both participants and supporting infrastructures.
To maximise the benefits and increase the sustainability (environmental, emotional and financial) of the Makerplatz ecosystem.
Establish Makerplatz as a Maker Hub, with connections to other hubs within Berlin and beyond.
If you would like to be involved then please come to our planning party at Planet Modulor on Friday 9th September @ 20:00 – please confirm attendance. If you can't make it please send me an email stating what you could bring to the festival (skills, workshops, tools, materials, experience) and what your objectives of participation would be (ie. how you will benefit, just for fun is also valid).
_____________________________________________________________________
The MakerLab Format is Open Source – http://www.makerlab.info/?page_id=2, constantly evolving. Each is Unique with different contributors and instigators.
For past events, instigators and an idea of what to expect follow the links below.
DMY MakerLab 2010
MakerLab Milan
MakerLab Fusion
MakerLab Good Goods
Sharism MakerLab - September 15/16