Adhocracy. Make it your self (Background)
People have been disenfranchised from the sense of responsibility towards the public space. Citizens think that the government (and other institutions) should take action when it comes to shape the city. This is a commodity, for which citizens pay (with their taxes). However it is more and more clear that centralized institutions can't deal with all our requests.
So it becomes clear that we have to take charge, at least if we want something to happen.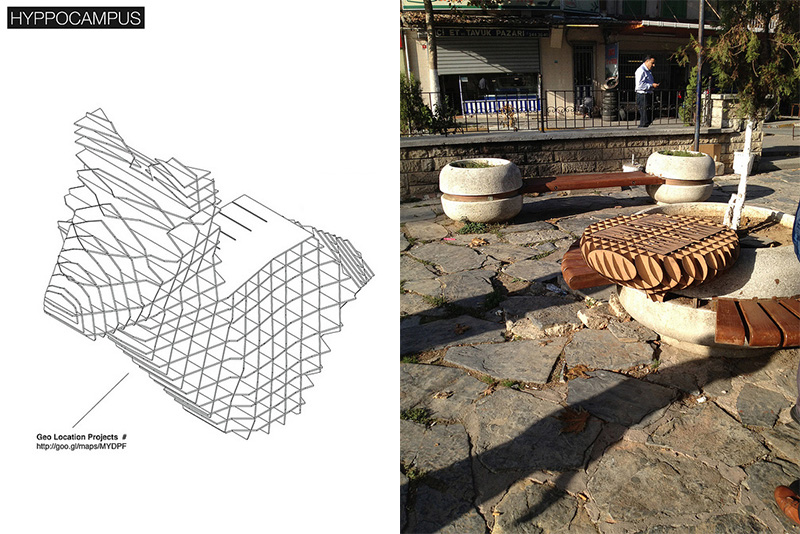 Virus Plug-In; Inspire and provide instructions for others to spread change. (Concept)
The Virus Plug-in is an object that uses a public structure as its own. It will grow around itself, almost self-replicating, and will give a new sense and value to its location, one decided by citizens. By introducing this objects in the street and showing people how they can be made, we spark a viral action, were people feel able, allowed and encouraged by their peers to hack the public space.
For the production we created a language based on a common material (6mm MDF), construction technique (Interlocking Slices), and tool (Laser cutter). This was done to help people identifying the virus and understand the process. But this is not, in itself, the goal. We produced an answer to a spotted challenge based on existing tools, open processes, local resources and needs. The goal is to produce possible solutions that are effective, understandable and exiting. And publish them in a way that is is easy to copy and adapt to each location.
It is not an action to impose a new concept but to invite reflection.The change depends very much on the willingness of people to get involved. We can provoke.
Virus Plug in will be developed further in Barcelona @ eme3 (25th – 30th  June 2013)
We have been invited to share our work at the eme3. Besides showing the work we did at Istanbul Design Biennial, we are going to be prototyping new iterations of the Virus Plug in. Adapted to its new environment and possibilities. We invite anybody who is interested to come and prototype with us.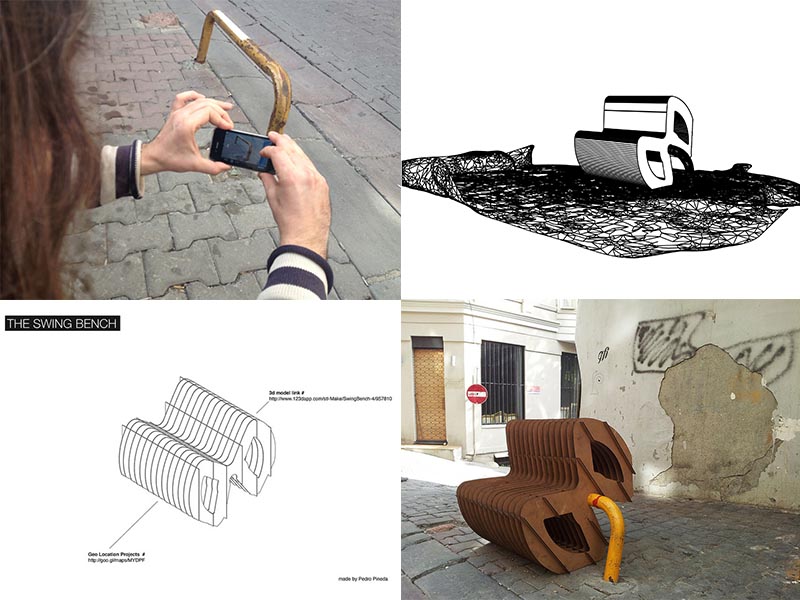 The process to create a Virus Plug-in (Instructions)
Take pictures of the public structure that you want to use for the plug in. (Image: top left)


Upload pictures to

123D Catch

to make a 3D scan of the structure.

Import the file to a 3D modelling program.

Model your plug in around the imported scan. Make sure that you design it taking in consideration how you will plug it in! (Image: Top right)


Import your 3D model to

123D Make, and transform to interlocking slices, (Image bottom left)


Send files to closest Laser cutter,

Put it together,

Place it in the public space. (Image bottom right)

If you like to participate in this action send us a mail to pedro.p (arroba, @) wecreativepeople (punto, . ) com
---

Concept by Magdalena Reiter Last week we got some copies of Make Design Open. The booklet covers copyright issues, networks and the pillars for a possible new economy in design. The booklet is a great intro for those who like to know more about Open Design, covering many different aspects that makes this movement…

Video is a great tool to share knowledge. In this video, Alessandro Contini and Alberto Massa not just walk you through the process of making a Synth, but actually take you to other videos that explain the first steps to even set the kit to work. What i like about this work is that…

betawald auf dem oranienplatz from Pedro Pineda see where this Wald comes from here.

Visualizza Istanbul MakerLab in una mappa di dimensioni maggiori It is spontaneous. Our project is not about producing something new. Even if the form is different, the programs, the tools, even the idea of furniture is already existent. What we did in this lab was to show another possible option that is available to everybody.…
Infograhic Hyppocamus Plug-In. Designed by Mattia Paco Rizzi during the MakerLab Istanbul.
For this project was clear that we wanted to create a visual way to share the knowledge generated. Apart of the day to day review, the How to video and the physical objects in the space, we thought necessary to develop those info-graphics with al the necessary details for people to understand them and even to make their own. It includes:
Name of the author,
Geographic location for people to see it in place,
Link to 123D app gallery for people to download the model
Notes
With this information we believe most people with a computer could replicate the process. However it could be improved by designing a way for people to adapt the plug in to their own space.
Infograhic with all the Plug-In develop during the MakerLab Istanbul. Graphics by Mattia Paco Rizzi
A video is 1000 pictures. The follwing relates the process to make one plug in.
viruspluginvideo from erin turkoglu on Vimeo.
Each one of the plugs ins that we are designing varies slightly in how is being implemented depending on our concept, the conditions of the structure, our skills with the tools we are using etc. However the basic structure looks like this
Take pictures of the public structure that you want to use for the plug in.
Upload pictures to 123D  Captch to make a 3D scan of the structure. If you have an I-Phone you can upload directly as you take the pics.
Import the file to a 3D modelling program. You can use free software like Sketch Up, or any other surface modelling program.
Model your plug in around it. In this way you will have an almost perfect fit. But still have to deal with how it will be connect to it!
Import your 3D model to 123Make, and select interlocking slices
Save files and Laser cut them
Put it together,
Place it in the public space.
Notes
Of course, even if it sounds easy, prototyping to reality is the only way to know if it works. And not surprisingly there is still a lot of twicking and filing of the models to make them work.
Having created a general concept, we now want to define what exactly we are doing and what will be the output of this makerlab (physical output). We have decided not to create something new, but to show how digital production together with ready available tools and materials can be easily implemented to build the public space. And how using the existent public structures (ie: bollards, fences, rails,…) we can reduce structure requirements in the products we produce.
The concepts develops to: Viral Plug ins for the public space.
Alex taking pictures of the public furniture. The photos will be uploaded to
123D-Catch
and a 3D model is created. The plug in can be then created directly around the object. Photo by
ErinTrk
Our Process
Confirm concept and production process
Each person selects a public structure for which he will produce the plug-in
Make pictures to do 3D scan of the objects.
Design an object which fits that bollard and that contributes to the public space use
Transform object to Intersecting slices so that we can produce it with the laser cutter.
Sketches of plug-ins to be build. (some more develop than others) Photo by
MattiaPacoRizzi
Notes
Most of us can use already 3D modelling tools, but still we find some challenges when adapting the products for this kind of production. It true that the interfaces will be more and more easy for all to use, but in the mean time might this project be more about a library of products, that people can adapt to their environment, or can non-experts produce objects from start to end?
Our process
Today we wanted to set a direction and start to design the details of the concept.
Each one of us develops a concept that is relevant for Istanbul and based on a thinking which takes in consideration previous work done by Open Structures and Open Ecology.
Each person chooses a concept and designs how it could work.
Present the directions to each other to get feedback.
Develops further the idea
Present concepts to each other (16:30)
Choose common objects to develop further based on previous direction and agreed aspects.
Notes
For that we first wanted to find out a global concept.
Looking at most of the directions we have been exploring we see a common trend. Public furniture that is used to hack the public space for different purposes. We call it: Construction Set for Public Furniture
But once we tried to choose one concept the discussion went own forever.
Is there a flaw in the process that we are trying to use?
Do we need to eliminate variables ? Be more precise about the user, the environment, etc?
However, we do have a concept:
A set of plug ins for street bollards.
This project would be about helping people to use public structures to build on top furniture that they want or need. But:
How will it be connected?
Who will do the designs?
How will it be produced?
What is the common concept?
The challenge is to answer this question in a way that we can bring a new and better possibility for people to interact and construct the common public space
MakerLabIstanbul Day1 from MattiaPaco Rizzi / Linguamara on Vimeo.
the video captures some of today moments. We will try to produce every day a short caption.
Our process
Today was about sharing our insights with two focus
Adhocracy exhibition: We all searched the exhibition picking up projects that we believe are relevant to take further
Galate district (Istanbul): The past days we have been walking around capturing samples of adhoc attitude, or opportunities where Adhocracy could offer a solution.
The process develop like this:
Pick up a inspiring project from the Adhocracy exhibition. Why?
Pick up 3 pictures from the Galata district and mention how Adhocracy is being implemented by the citizens, or how Adhocracy could be implemented based on the projects you have seen
Cluster insights into themes and find a title for each cluster
Make questions which related those themes and challenges we find in Istanbul
Select most relevant and make teams around them (each one chooses the topic he is most interested in
Brainstorm concepts that could solve those challenges
Select one (per team) and develop
Present
Notes
We did rounds sharing with each other our thoughts and trying to identify challenges that could be:
Resolved in 7 days (or at least provide an insightful prototype)
Relevant to the topic of Adhocracy
Compelling for us
Not having a clear challenge to solve, and trying to keep open for unexpected directions did slow the process. We wanted to go in depth. Have an understanding of the topic and the different perspectives that each one brings, so that a series of related concepts come out. So we couldn't arrive to a clear concept, but tomorrow we will choose a clear direction.
Our problem is self chosen. We know that it would have been much easier to develop a concept before, and exhibit it here. However our expectation goes a little bit further, we want to work with what have been done to date, what is present, and see how it can be develop or applied. We want to do something that is alive and adaptable. The question is: Does this kind of process provide with, not with the so called innovative or new, but plain good results?
Expanding Team
Today (From left to right) Erin Turkoglu, Efe Alpay, Asli Tekin, Burak Cangir & Can Kusadali joint the team. Bringing new skills and Turkish flavors to the project.
Pictures from process
Next Page »